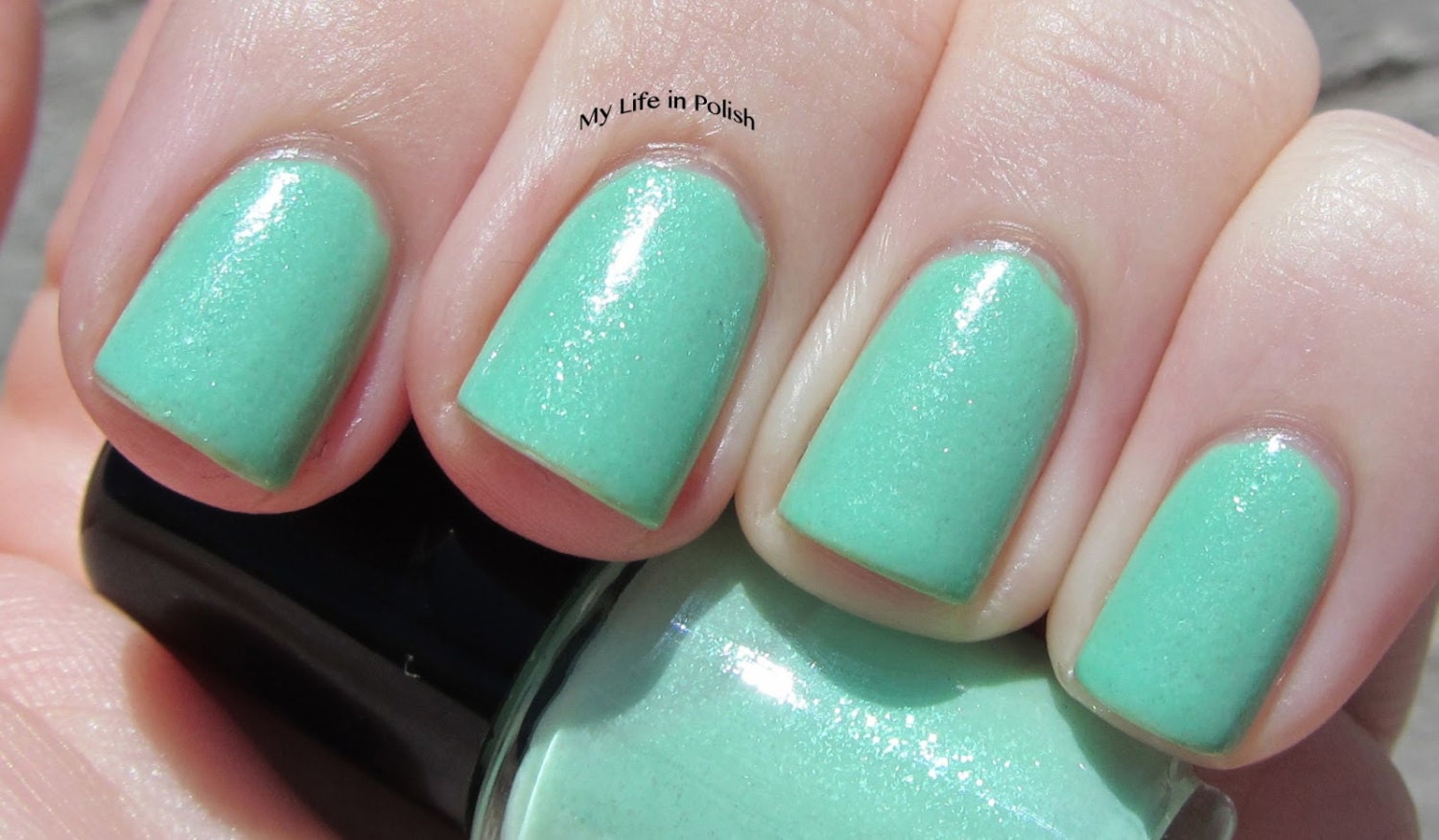 (Photo courtesy of LynBDesigns)
Howdy y'all! Today I thought I'd do something a little different and put together a dual-review post... kind of like a make-up haul.
So. What are we looking at for today? Firstly, a bottle of
Oobleck
nail polish from
LynBDesigns
.
I was sent this several weeks ago, and practically as soon as it arrived in the mail I tried it on. You can get a small picture of what my nails looked like, in the pictures below. (And of course, a much better example is included above, from the Etsy listing itself.)
I really fell in love with this color. It's such a fun, bright shade and almost a cross between a mint and very light green.
These photos sadly do not capture the true color of this polish - which is why I included that picture from LynBDesigns to begin with. It's really the only one that fully gives you the accurate color.
So, this is a pretty decent sized bottle. Lots of polish! I know it will last me a really long while.
Now, as much as I adore the color(it even has some flecks of glitter in it!), and as much as I love the fact that this was homemade, I do unfortunately have a few negatives with this polish.
The main detail is, that it's very hard to apply. At least, for me it was, anyway. I spent a good 45 minutes trying to get it applied just right without looking sloppy. This was easier said than done, because for some reason the polish had a tendency to clump up on my nail very quickly.
It also took a long time to dry, which hindered the entire process further.
I'm certainly no expert at manicures but I also can recognize a nail polish that's difficult to use. Sadly, this is one of those.
However, once I got it on without it clumping and looking dreadful, I did like it, and enjoyed wearing it. As previously stated, I just love the color - it's very me.
Conclusion: If this stuff was easier to apply, it'd be perfection in a bottle. But sadly, it's not. I'll still use it, but probably not as often as I would had it been less hard to use.
Now, as I always say, I really like to use cosmetic products which are made with natural chemical-free ingredients. These eye shadows certainly fit that bill, which made me happy. Also, I like how these were packaged. Their containers are unique looking, I think.
I didn't actually choose these colors, they were selected on the basis of being two of the artisans' favorites.
If I'd chosen the colors myself, I probably wouldn't have picked these personally, being a fan of more noticeable, colorful shades. However, I am not against them either.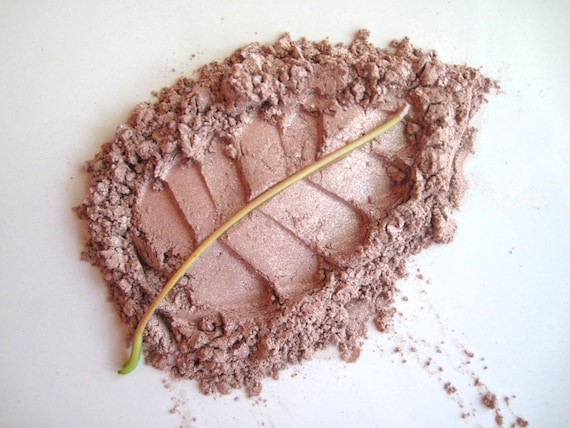 (Photo courtesy of Willow Tree Minerals)
The Soft Wildflower is a nice, subtle shadow which is very light and barely noticeable on the skin. It mainly just adds a little sparkle and sheen, so if you want to go very natural and light I can definitely see how this would be a good option.
Once again my photos today just aren't giving you the picture, sadly.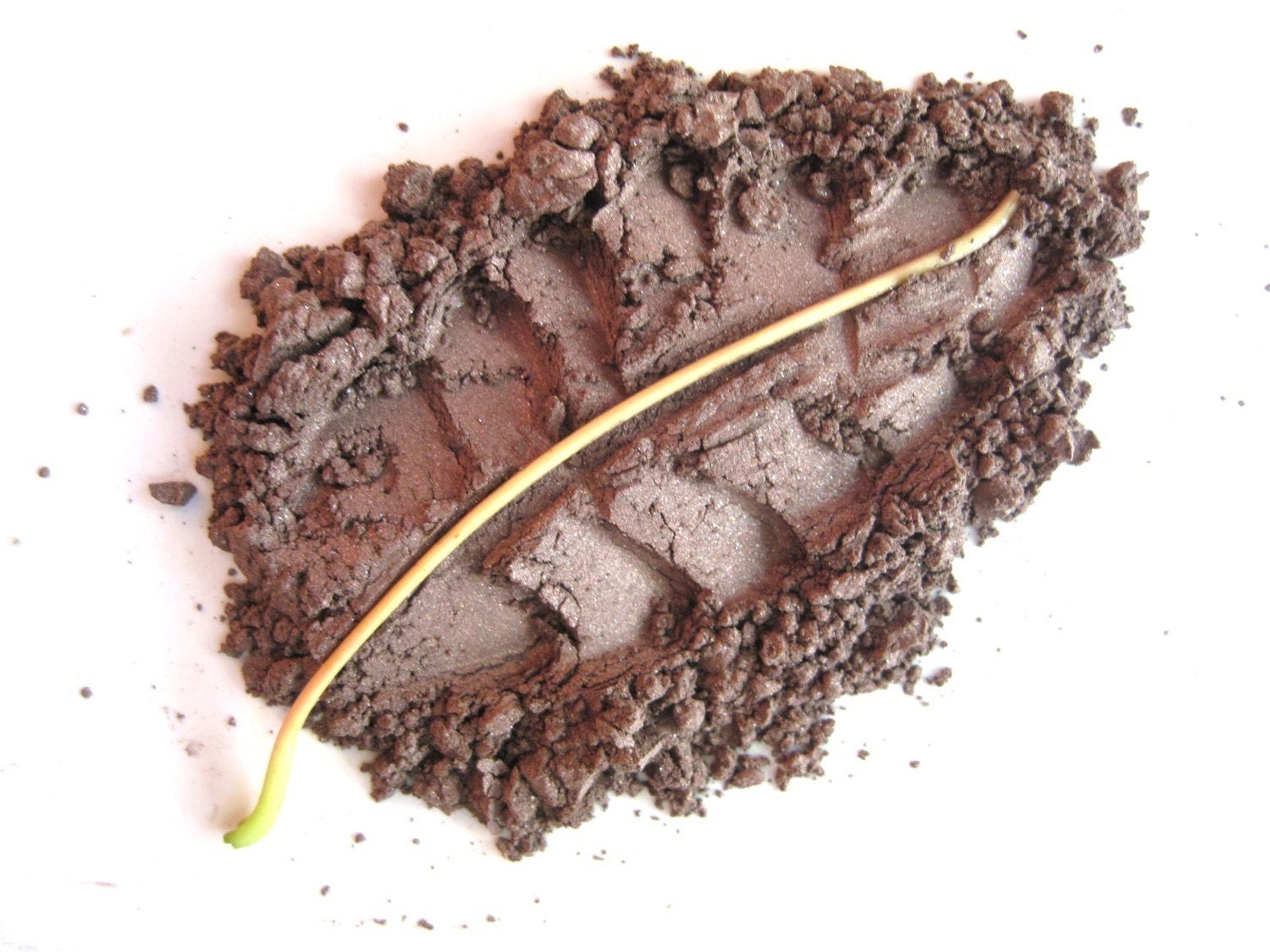 The Iced Latte shadow is considerably more noticeable. I wore it Sunday, to lunch, but Mom said I looked like I had dark circles under my eyes. So. This shade was just not for me. I'm sure it would look better on someone else, but I guess my complexion and face just didn't match with this one.
The verdict on both these shadows? They aren't phenomenal, but they're not terrible either. I liked using the Soft Wildflower and would recommend that one for a light, natural look. I can't honestly recommend Iced Latte though since, well, it just didn't look good on me.
Both shadows were a tad hard to apply. I've used powder eye shadow before, so I can say that not all powder shadows are inherently messy.
Let me just tell you guys, I hate to give reviews that are anything short of rave sessions. It's...hard to willfully write something negative. Especially when you appreciate the generosity of the business that sent you the item to review!
So, a shout out to LynBDesigns and Willow Tree Minerals for letting me be honest about your products, and for providing the products, to begin with!